30 Miles through New York - Lessons from 5,000 Miles Away.


29 March 2021
by Kelvin Slesser-Marriott
Images: Johnny Zhang @jzsnaps

The most interesting running event to happen worldwide this weekend took place in New York City. Sitting at the peak of grassroots running, if there is such a thing, the OSR30 is a 30 mile checkpoint-based urban ultra-marathon around the perimeter of Manhattan. Epic. It was broadcast for free.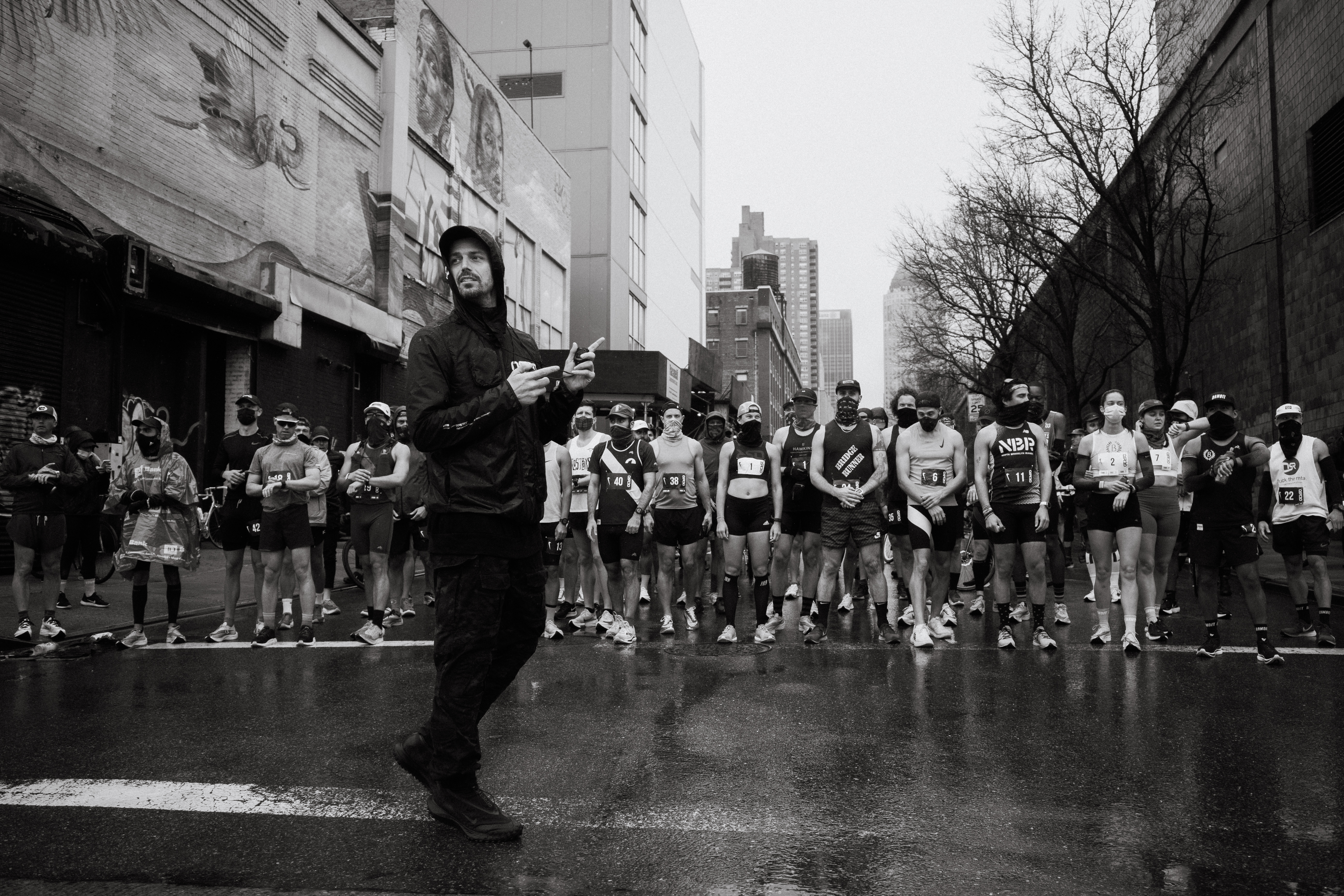 OSR30 by @benjaminpratt & @jzsnaps
Yet despite this last fuckery of a 12 month period causing
a miniboom in running
,
Nobody
watched it.
So let me rewind, to tell you the story as it happened and what I thought about during four hours of athletic fortitude, unorthodox drama and radical community.
12:00pm local time. Runners have checked in outside of
@asisnyc
, a beer bar doubling as race HQ. They use road markings for the start line. It isn't closed to traffic.
They're off.
Lead contender
@davidkilgore
takes off at a staggering ~05:30 per mile pace. It's intentional to lose second place Alexander Burks (
@skrubsmiles
), another hot-tip who tailed Kilgore for navigational guidance before burning him at the last to win another OSR 10km meeting in 2018.
"Why not show all the runners?"
- asks a clearly uninitiated follower.
Champion alleycat cyclist
@tedlogan
does an outstanding job of following the early race, dodging cars and keeping us updated along the unmarked 30 mile course.
Protocol is for the camera to follow the lead though, so Kilgore's breakaway means we don't see another runner until a turnaround checkpoint almost 77 minutes into the race. Here the current closest rivals exchange a comfortable high five that signifies two things: Burks is closer than we thought, and this relentless pace is still nothing less than comfortable for these outstanding athletes.
Jump to mile 15. Burks is still in pursuit. Logan's front tyre bursts on a suspected glass shard. Kilgore jumps a wall - into oncoming traffic - and coverage is momentarily lost.
"Do you know where he is!?"

Twenty minutes later and we're back. Downpour. Fucked tyre. But we found Kilgore. Is he still winning?
"I'll be back soon". The Live stream goes again, this time so that Logan can charge his camera. He's still riding on a flat.
…
…
It isn't far from an hour before IGTV is back up, by which point two-time winner and course record holder
@travhawkins
seems to be up front. Nope? Still Kilgore? Yeah, Kilgore! Where's Burks? This is drama. The chaotic kind that can only come from handing media production to a team of resolute but amateur volunteers.
That low key approach is the essence of it all. Nike are involved, but not really, and at least some commercial involvement is almost an inevitable to sustain the scale of these independent race events.
"Is there prize money for this?"

Cash prize is $100. Everyone gets a beer.
"The glory is more important."
2:42pm local time, approaching Trav's 2:55 course record. Stream's back up. Kilgore and Burks both missed a checkpoint while we were gone. We think? Ned Booth (
@abcdegb3
) might be leading now. We follow him. Haley Ritsema (
@the.halestorm)
is winning the women's race. As expected, surprisingly smoother.
At this point we've been watching intermittent coverage for almost three hours. It's mostly a fixed camera. Silent runners. Metronomic pace. Long open stretches, traffic noise and really shit weather (sympathy here really wouldn't be the OSR way).
In truth that probably explains why the fluctuating spectatorship rarely exceeds 120 viewers. This isn't a Netflix blockbuster that runs up your dopamine hits until the point of diminishing returns. Really man, cancel Ozark.
The odd lane hopping dance through traffic is tense, and sporadic commentary does something to give a picture of the race. But unpredictability, non-convention, spirit - that's the entertainment here. We want in.
3:17pm - I think Trav won. Out of nowhere. 163 people were watching.
The live stream has gone again. Maybe for the final time today. Second and third place? Nobody remembers a runner up.
@the.halestorm
comes in first on the sister feed. We have our champions.
"Alright guys, signing off".

The rest unfolds offline.
Over these four hours you realize that Orchard Street Runners didn't really need you to watch. It's unforgivably about New York. A race that rewards intimate knowledge of it's landscape. The best spectators, the volunteers, they're all there on the streets. It's happening because of them, and it's entirely for them too. A once per year opportunity that could not exist within the confines of a corporate production.
This race has nobody to answer to. No metrics to fill. No growth agenda.
It's winners don't need or get media reach. It wouldn't surprise us if the obligation is to get a round in with the prize money. They're not competitors any more, they're community - with kudos that stretches not much further than the few of us who pay attention online.
OSR30 is gone as quickly as it pops up. But for those involved it's an enduring memory of being part of something. Races don't need to be big, they don't need to better your financial position, they don't even have to guarantee your safety.
I thought about freedom.

Being able to race through open streets and traffic like that. It feels important this year more than ever. How sometimes you have to opt-in and take a risk in order to happen upon something great. How these people choose to make culture, and how it doesn't matter who sees.
To sanction is to give official permission. There's none of that here. Nobody's going to sell you into it, you simply have to find it for yourself.
Let's leave it with this old passage from OSR's Erik Reitinger...
..."I put out my hand to stop traffic as I run cross Amsterdam Avenue. I don't have a bib, there are no spectators, but they know that something important is happening. Maybe the drivers will go home and tell their families that they saw a race today?"
Thanks for taking the time to read this post. If you enjoyed it, please consider following us on instagram for future updates.
Follow West Coast Runners ︎
Words by Kelvin Slesser-Marriott, co-founder of West Coast Runners: "
They ain't short shorts, they're long long legs. It's a look"