The Race That Starts on the Crack of a Beer.


05 April 2021
by Matthew Dixon
Images: Oli Harman @oliharman

Street Summit: an out-and-back 10k race, starting and finishing at the Eros Fountain in Sefton Park, with a checkpoint 5km uphill by the water tower on Reservoir Road. Directed by Matthew Dixon (@mrdixonnorthwest), here he reflects on the crew's debut race.

It's 9:00pm at night and I'm stood in Sefton Park with my arms aloft, holding £100 in cash.

18 runners are gathered around me, still sweating, still breathing hard, one bleeding quite heavily.


Street Summit 001 by @oliharman
They've just subjected themselves to
Street Summit: Liverpool South
, West Coast Runners' first step into the world of unsanctioned and unorthodox racing experiences.
"How's things? I've got 90% of a race planned but need someone to bounce the idea off and help me fine-tune it."
It's 12th December 2020 and I've just text Kelvin Slesser-Marriott (
@kelvin_ksmksm
),
il capo dei capi
for West Coast Runners.
That September I'd joined the team as they took on
The Speed Project: DIY
, crushing 31 hours and 15 minutes' worth of miles across the streets of Liverpool. These lot seemed like they knew how to put on a party.
Now with the lockdown dragging on and a completely blank racing calendar, the time seemed right to put together an event to break up the monotony and bring competitive spirit back to the Liverpool streets.
My family are from Cumbria, so my frame of reference for what constitutes a good race is firmly grounded in fell running
(I would recommend that you read Richard Asquith's "Feet in the Clouds" if you haven't already, fell runners are heroes)
.
Photo by Massimo Sartirana on Unsplash

Run up the hill. Run down the hill. The person that does it the fastest wins. Simple.

"Which road are you taking up?"

It's the only question I find myself asking.

7:30pm, the night of the race, and runners are warming up all around me. I'm handing out race numbers and sarcastically bad maps. Fail to prepare…

Because whilst there's a half-way checkpoint, the rest of the 'course' is up to the runners to decide.

This course is my baby, and I feel very protective of it. The way I see it, you have two real options: go for Druids Cross for a less-steep but long slog, or absolutely trash your legs attacking Beaconsfield.


For me? Go the long way and hit Linkstor Road. But my fiancée used to live at the top of Linkstor, so that's probably an emotional rather than a logical decision. Always easier to run home.
Some runners are looking at the maps with barely disguised horror. When we told people to plan a route in advance, we meant it. We're not here to hold your hand.
30 minutes later and I'm stood at the head of the start line, carrying a beer. I'm going to crack this beer open, and the 18 runners are going to run like hell.
All eyes are on me, and I look back at each of them in turn. In my head I say to each of them:
"we've been waiting for this, you and I. Waiting for an opportunity to see whether all of the miles and miles and miles were worth it. Waiting for a test. I know that feeling, and you know that feeling, and everyone racing tonight knows that feeling. Well, here we are. Let's see what you can do."
We have waited long enough.

tsst
…
GO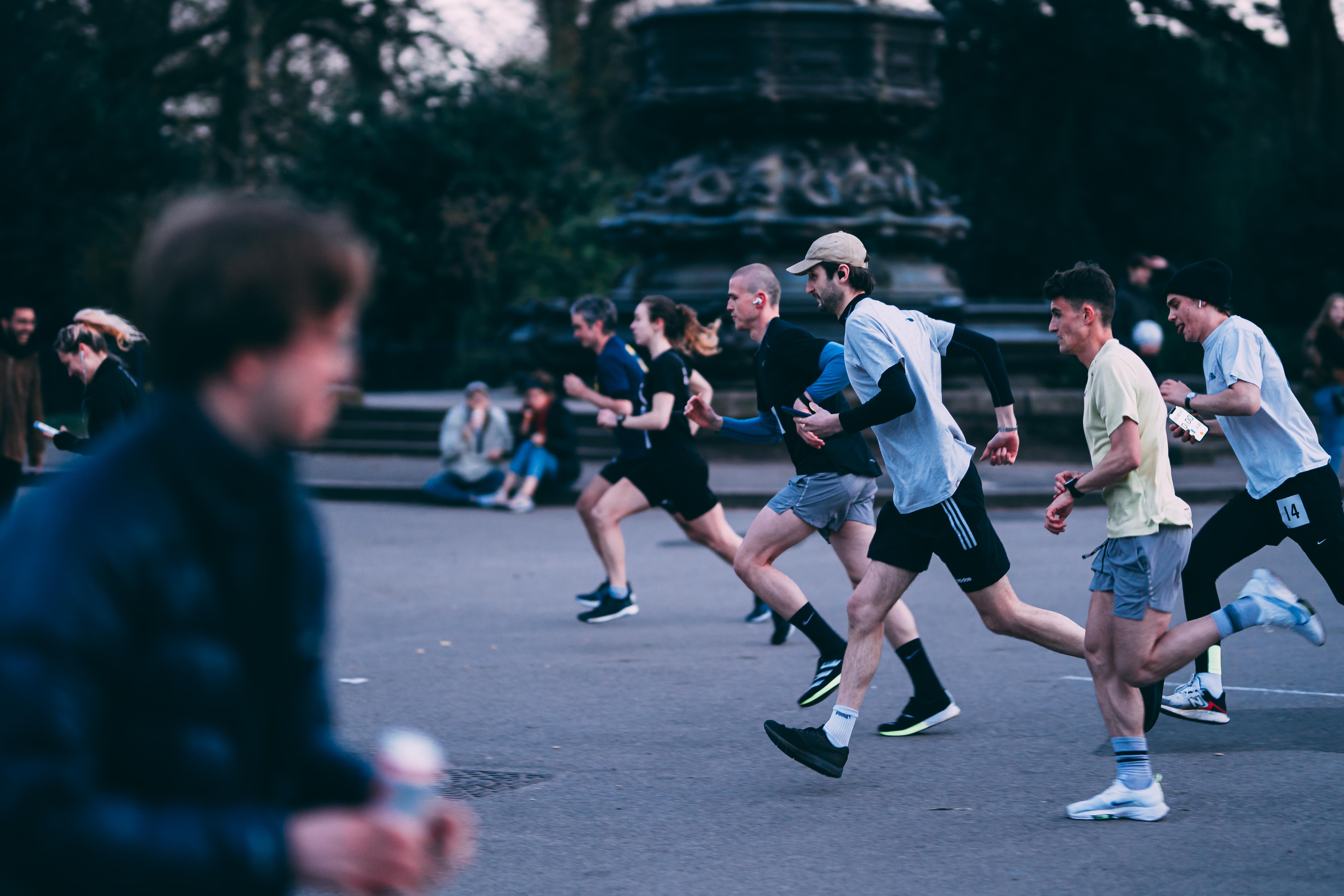 Back to the Fountain.

9:00 at night on 3rd April.

Souvenir Red Stripe in hand, the runners look at the envelopes of cash.

Four or five of them set off for the hill an hour ago genuinely believing that they could take home the cash. They were fit. They had planned. They were ready.

When my Dad, standing at the top of the hill 5km away, messaged to say that the first runner was on their way back just 18 minutes into the race, we knew that the winning time was going to be blisteringly quick.



Nathan Jones (
@nathanjones1878
) took the race out hard and did not let up once, bringing it home in a scarcely believable 36:33. Second place Matt Smith (
@smithysaintz
) kicks it in in 39:55 for another sub-40 finish. I've run that hill more times than I care to remember, but running the course in that sort of time makes my head spin.
Laura Reilly (
@lm_reilly
) takes the crown on the women's side in an outstanding 43:28. Injured until October 2020, Laura admitted to some pre-race nerves. She needn't have worried, going sub-45 on that frankly ridiculous uphill course. Who needs a rust-buster anyway?

To the victors go the spoils.

To the rest? They got what they wanted. They were tested. Because you only ever push yourself to your absolute limit when you're racing. When the handbrake comes off. When the majority of the field set personal records on a course that's 50% uphill, you know that a lot of people have been getting scarily fit over lockdown.

This was racing returned. No marshalls. No mile markers or road closures. No gun. It started on the crack of a beer and ended here, gathered around the fountain. Each of us sharing a joyous post-run moment of celebration, with a collective sense of being at the dawn of something good.

See you at the next one.


Thanks for taking the time to read this post. If you enjoyed it, please consider following us on Instagram for future updates.
Follow West Coast Runners ︎
Words by Matthew Dixon, race director at West Coast Runners:
"My running is self-improvement disguised as self-destruction."